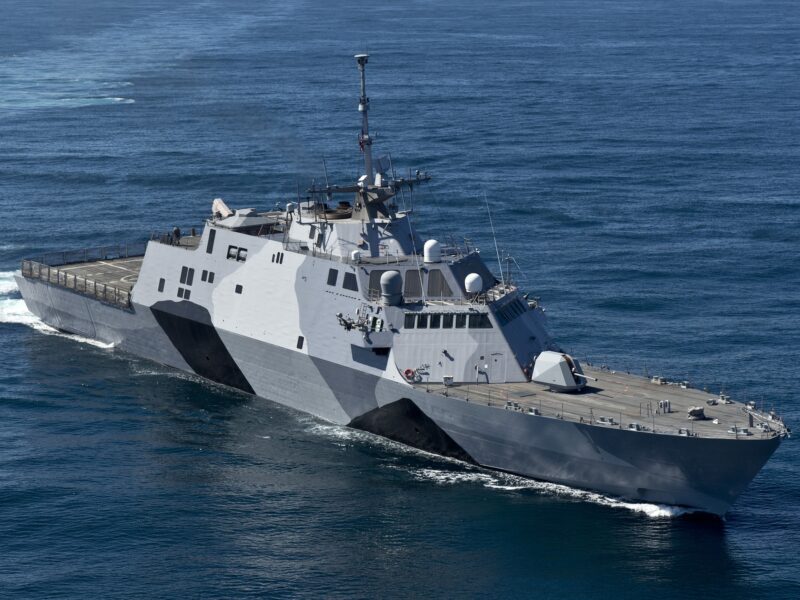 130222-N-DR144-174
PACIFIC OCEAN (Feb. 22, 2013) The littoral combat ship USS Freedom (LCS 1) is underway conducting sea trials off the coast of Southern California. Freedom, the lead ship of the Freedom variant of LCS, is expected to deploy to Southeast Asia this spring. (U.S. Navy photo by Mass Communication Specialist 1st Class James R. Evans/Released)
Engineers Should Be Problem-Solvers
One of my son-in laws works for a company that builds ships for the U.S. Navy like the one shown above.  He's in charge of a couple of hundred engineers that do the design work.  From time to time he confides to me that good engineers are difficult for him to find.  Most of them can follow directions but have trouble solving problems and building big boats means solving a lot of problems.  He sees this as a function of how his engineers were trained.  They can do what they've been taught to do but they have trouble when they encounter situations they haven't seen before.
I've got an interesting situation in this regard.  My son-in-law just hired a former Steppingstone student.  When Steppingstone accepted this student, his reaction was "I've been waiting for this phone call my whole life!"  Now, a decade or so later, how will he compare with others who had received a traditional education in an intellectually competitive environment?  Has Steppingstone made a difference? It has with many other students.  How about this one?
Less than a year later I learn this former student was sent to Italy to learn about some foundry techniques that his company wanted to use for making steel for their ships.  I found out that he was chosen to do this because he was one of their top employees with both leadership and problem-solving potential.  That is quite a step for a young employee, so I called my son-in-law and asked him about our former student.  While my son-in-law didn't know the former student personally, he had heard about him through his managers and was impressed with the capabilities of our former student.
The World Needs Students Whose Talents Are Properly Developed
This incident serves as a reminder of the value of developing gifted students.  Gifted employees are needed at every level of employment.  There is no substitute for providing an education tailored to the specific needs of each specific child – this student was not in an educational environment that was going to lead him to his current position.  It took a school like Steppingstone to see the potential of this student and develop that potential into a tool that could be applied to starting a successful career of his choice.
Every person deserves this.  Every person deserves to get the education they need so they can create their own future.  The majority of people can get this kind of education in a traditional school setting, but a small minority cannot.  Yet, it is this small minority that can have an enormous impact on our lives and the lives of our children.
Well, what goes around comes around.  I and my offspring will live in a better world because we took the time to educate this student according to his abilities.  And I can look my son-in-law straight in the eye when I talk about the value of what Steppingstone does.